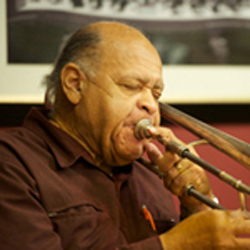 The call of music was a strong one for Clarence Watson. While still in high school he was asked to be part of a Dixieland Band to perform at Carnegie Hall. Then still fresh from his first year at Temple University he was recruited to play with Lionel Hampton's band. Realizing that he needed to finish his education Lionel Hampton graciously allowed Clarence to leave the band so that he could finish his degree under the stipulation that the minute he graduated from school he would give him a call. Clarence left the Hampton band and finished his degree at PMA (University of the Arts) then returned once again to tour with the Hampton band for another two years. After spending a year and a half in the army Clarence began teaching music in the Pemberton School District; where he remained until 1999.

Parallel to his long teaching career Mr. Watson has had an equally long performing career. His list of performances reads like a list of who's who of musical talent. Clarence was in the pit orchestra at the Valley Forge Music Fair, the Show Boat, Schubert, Keswick and Forest Theatres as well as various casinos in Atlantic City. Mr. Watson regularly arranged and conducted music for Joan Myers' Philadanco at the Academy Of Music, and he spent several years conducting the house band at the Trump in Atlantic City. Mr. Watson has played with and for many greats over the years including; Frank Sinatra, Lena Horne, Bernadette Peters, Elvis Presley, Arthur Prysock, Joel Gray, Willie Nelson, the O'Jays, Michele LeGrande, Sid Caesar & Imogene Coca, Crystal Gale, Frankie Valli and The Four Seasons, Martha & Vandellas, the Four Tops, Temptations, Joan Rivers, Jerry Lewis, Bette Midler, Red Skelton's TV show, Chita Rivera, Gregory Hines and the Hines Brothers. and Johnny Mathis to name a few.

Clarence brought his love and excitement for music to the students he taught. His ability to convey knowledge in a way that reflected his own passion was unsurpassed. Clarence taught trombone, french horn, tuba, theory, piano, brass band and jazz band to students of all ages and abilities.